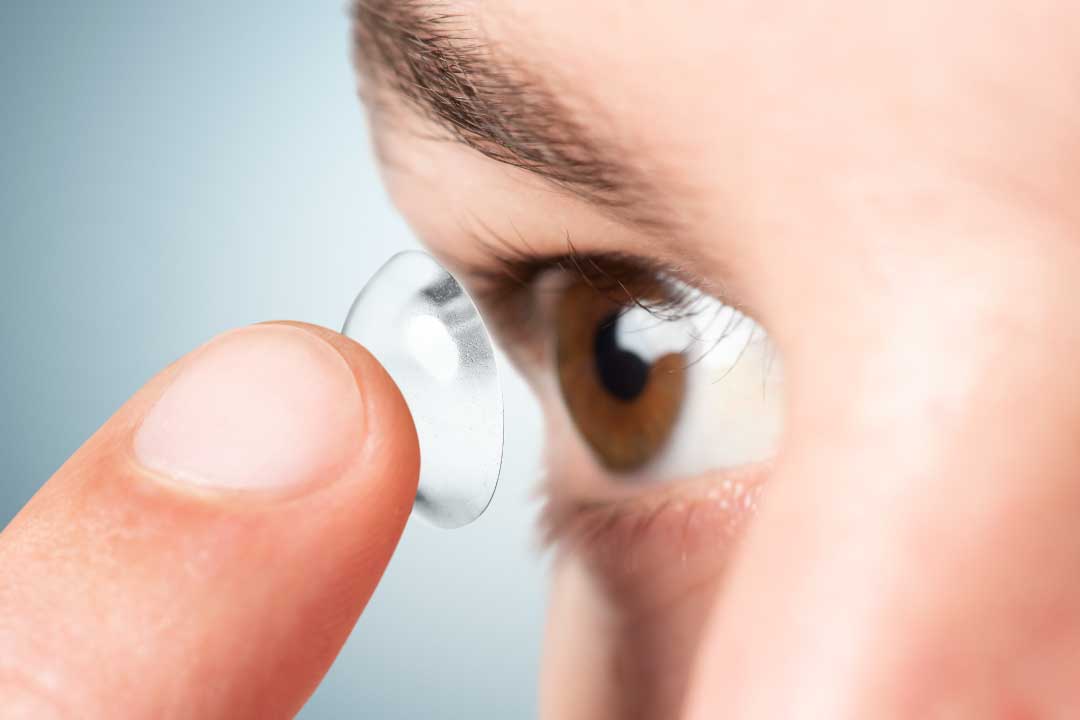 How to choose contact lenses
Of course, when you come in the visit us, we'll help you select the right contact lenses for your needs. But to get a head start, here's a post from our team explaining how to choose contact lenses.
We live in the golden age of contact lenses. But with all these innovations and styles, it is easy to get overwhelmed. If you are wondering which contact lens type is right for you and why, read on and let us make things clearer for you.
Ever since German Ophthalmologist Dr Adolf Fick made the first pair of contact lenses in 1888, contact lenses have been getting better and better. Dr Fick would be amazed at the wide range of styles and materials for contact lenses available now: daily disposable contact lenses ('dailies'), monthly contacts ('monthlies'), hard contacts, soft contacts, extended wear contacts, multifocal contact lenses and many more.
There are two main categories of contact lenses: hard and soft. Both contact lenses are made of plastic, and both can correct near-sightedness and farsightedness.
Hard contact lenses are made of 'rigid gas-permeable' plastic and soft contacts are made of silicone hydrogel.
Hard contact lenses
At first, hard contacts were the only kind you could get, but today, hard contact lenses are usually chosen by people who have eye conditions that won't allow them to wear a soft contact lens. If your optometrist determines that you have an irregular-shaped eye or a condition called 'keratoconus,' hard contacts will be recommended.
In general, hard lenses last longer and are less expensive in the long run. They tend to suit wearers who are more comfortable with a daily cleaning regimen. With proper care, hard contacts can be worn for up to a year without being replaced. 
Soft contact lenses
There are many great contact lens types but soft contact lenses are the most comfortable and the most popular. Soft contact lenses are typically thinner and lighter than hard contact lenses; they're also easier to care for and they have less risk of infection.
Soft contact lenses come in three main varieties…
Daily disposables or 'dailies' are made for one-time wear and are the most convenient contacts. 
Fortnightly disposables are soft lenses worn for up to two weeks (taken out each night). They must be cleaned and stored in solution overnight.
Monthly disposables can be worn for 30 days. Although you need less lenses, you need to ensure they are cleaned and stored in contact lens solution overnight.
It is important to care for your contact lenses. Our contact lens guide provides you with the best ways to care for your contact lenses.
Which type of contact lens is right for me?
The right contact lenses depend on the level of your eye health. There are plenty of contact lens types to suit every individual. An example is toric contact lenses, these contact lenses are designed to help people with Astigmatism. Also choosing contact lenses to suit an active lifestyle is best as it is the common choice for active people. Although the best answer to this question will come from us as your optometrist. A consultation with us will make sure you choose the contacts with the fit, size and material that match your lifestyle and are healthiest for your eyes.
What contact lens type is right for you? Here are five questions to consider:
There are many innovative contact lenses on the market so which is right for you?
The two main categories of contact lenses are hard and soft. These are both made of plastic, and they can both can correct near-sightedness and farsightedness.
Hard contact lenses are made of 'rigid gas-permeable' plastic and soft contacts are made of silicone hydrogel.
We will conduct contact lens fittings as part of every standard eye examination for contact lens wearers.
During the fittings, they will determine the correct size and fit for your contact lenses, and work with you to ensure that your contact lenses fit you best. It is crucial to pick the best contact lenses to suit your lifestyle.
Here are a few questions to consider to help us determine the contact lenses that will work best for you…
Do you suffer from allergies?
Daily disposable contact lenses are the best for people with allergies and are the usual recommendation.
Because daily disposable contact lenses are replaced each day (instead of cleaned and stored), there is no chance of any allergen build up on the surface of your contact lenses. This reduces the chance of infection and alleviates the symptoms of eye allergies.
What sports do you participate in?
Contact lenses are a common choice for active people, but the type of lens you choose will differ based on your favourite way of staying fit. Daily-wear contact lenses are the best option for weightlifting and yoga as well as on-field activities like soccer, rugby, or footie.
Hikers or mountain climbers might find extended wear lenses a better choice. Swimmers, on the other hand, are encouraged to wear goggles, not contact lenses.
How often will you wear your contact lenses?
Many people who wear glasses like to have the option of wearing contact lenses occasionally – for a night out or special events. Soft contact lenses (daily, extended or disposable) are usually recommended for glasses wearers who like to change it up from time to time. Rigid gas permeable lenses are more durable than soft contact lenses, they are also more breathable, this type of lenses will suit a daily contact wearer who prefers to wear contact lenses than frames.
Be honest: will you follow the recommended care routines?
Will you clean, rinse, and store your contacts each night using the recommended cleaning regimen? Don't forget to clean your contact lens case too!
Remember that proper lens care takes time, so it is best to choose the lens that fits your life rather than try to change your life to fit the contact lenses.
Are you approaching 40?
As we age, we inevitably begin to lose the ability to focus up close. It is a natural part of getting older, and it's called presbyopia Like most other vision problem, presbyopia can be managed.
Multifocal contact lenses or bifocal lenses, provide vision correction for both near and far and are available in a range of options: hard or soft, extended wear and daily disposable.
Collaboration with us means you will make the best possible choice of contact lenses.
We'll prescribe the contact lens that fixes your vision problem and will fit your contact lenses for maximum comfort.
It is up to you to follow the recommendations and replacement schedules that will preserve your eye health and help you get the most out of your contact lenses.
Do I need a contact lens fitting?
Yes. Contact lenses fit on the cornea (the clear, domed window in front of your eye). Your corneas need oxygen from the air to stay healthy, so when a contact lens is fitted on the cornea, it's important that the cornea is still getting the oxygen it needs.
Contact lenses today are 'oxygen permeable.' That is, they allow oxygen to reach the cornea while you wear them. But without a proper fitting, you may get a contact lens that is too tight, which could limit the oxygen flow and lead to problems. On the other hand, if your contact lens is too loose, it will feel like you have a constant eyelash stuck on your eye and could cause an abrasion.
When it comes to choosing the right contact lens types for you, it's important to see a well-trained and qualified optometrist.
When we fit you with your contact lens prescription, we will ensure that your corneas are getting the oxygen they need and the lenses you select will not lead to complications.
Book an appointment with us to make sure you choose the right contact lenses in terms of the fit, size and material that match your lifestyle and are healthiest for your eyes.
Ready to book an appointment?
Online bookings available or call us on (07) 3463 0349.
This website does not provide medical advice.  It is intended for informational purposes only.  It is not a substitute for professional medical advice, diagnosis or treatment.  Never ignore professional medical advice in seeking treatment.  If you think you may have a medical emergency, immediately dial Triple 0 (000).