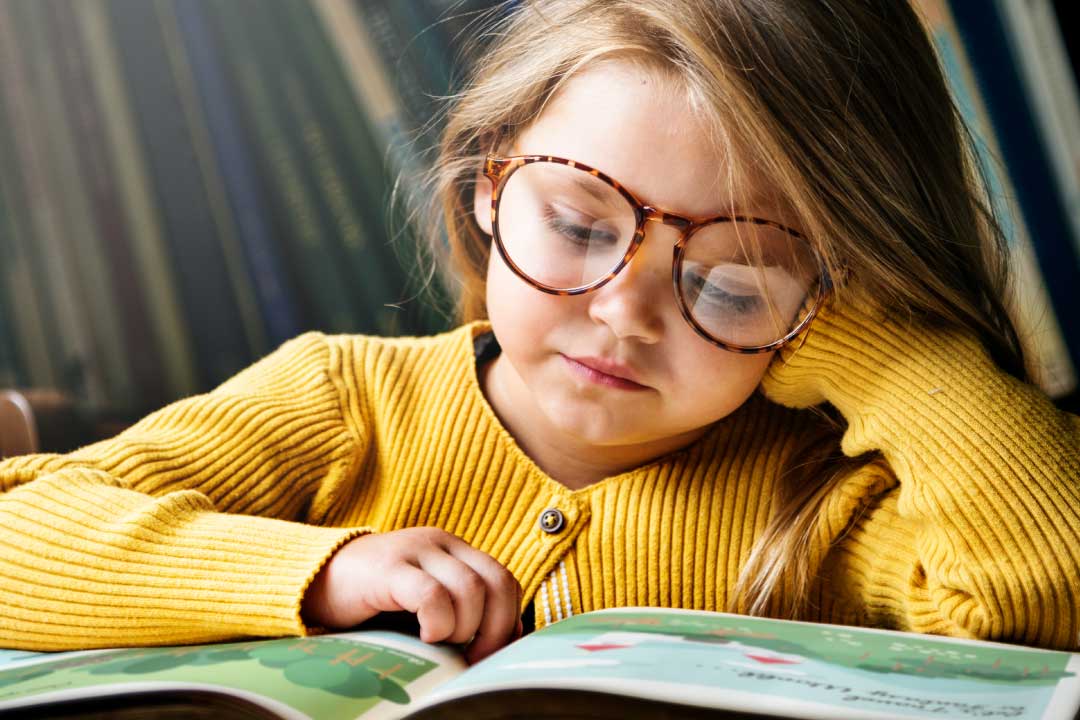 Did you know that approximately one in five Australian children suffers from an undetected vision problem?[1] If left unchecked, these issues may develop into serious vision problems in the future, affecting educational, social and learning outcomes during schooling and into adulthood.
That's why we've teamed up with Optometry Queensland and Northern Territory (OQNT), with our own Sally Stevens as a registered provider for the Smart Eye Start initiative.
This initiative recommends all children (and their parents) undergo an eye examination before starting prep and again before starting high school, in order to identify issues around vision before they impact a child's schooling.
This initiative applies to all children, regardless of whether they feel they have an issue with their vision or not.
That's because, as optometrists, and with our specialist equipment, we can identify issues with vision that individuals may not be aware of themselves, leading to early intervention and treatment, and potentially better outcomes. Our little ones especially may not be able to understand or articulate that they have issues with their vision, or because they don't know any differently, they simply may not know.
In fact, research done by Optometry Australia found that 79% of parents thought that their children had great eyesight however only 68% of parents had taken their child to an optometrist to check. Of those children that did visit an optometrist, 35% needed prescription glasses, suggesting that an eye examination revealed vision issues for a child that many parents were unaware of.[2]
Like visiting the dentist, regular trips to an optometrist, regardless of how good you think your eyesight is, can help you keep on top of any potential or undetected eye issues. For children, this early intervention may help to set your child up for a lifetime of good eye health.
How can you become involved in the Smart Eye Start initiative?
There are two ways you can join us in the Smart Eye Start initiative.
As a parent – simply book your child (and yourself, or any other family members) in for an eye examination with Sally Stevens, our registered provider. OQNT recommends an eye examination before prep and before high school (before year 7), however if you or your child has never had an eye examination, we recommend you book in as soon as you can rather than wait for these milestones.
Not only is our optometrist Sally Stevens a registered provider for the Smart Eye Start initiative, but she is also a behavioural optometrist, offering extended treatment options such as vision therapy should those be considered appropriate.
As an educator – if you are a kindergarten teacher, school teacher or educator, you can register your kindergarten or school for the Smart Eye Start initiative. By registering, you will receive resources to share with your students, their parents and other educators to encourage eye examinations under the initiative. Simply register on the OQNQ website and you'll be sent further information.
References:
Optometry Queensland and Northern Territory. Smart Eye Start Initiative. Accessed May 2023.
Optometry Australia. 2020 Vision Index. Accessed May 2023.
Ready to book an appointment?
Online bookings available or call us on (07) 3463 0349.
This website does not provide medical advice.  It is intended for informational purposes only.  It is not a substitute for professional medical advice, diagnosis or treatment.  Never ignore professional medical advice in seeking treatment.  If you think you may have a medical emergency, immediately dial Triple 0 (000).