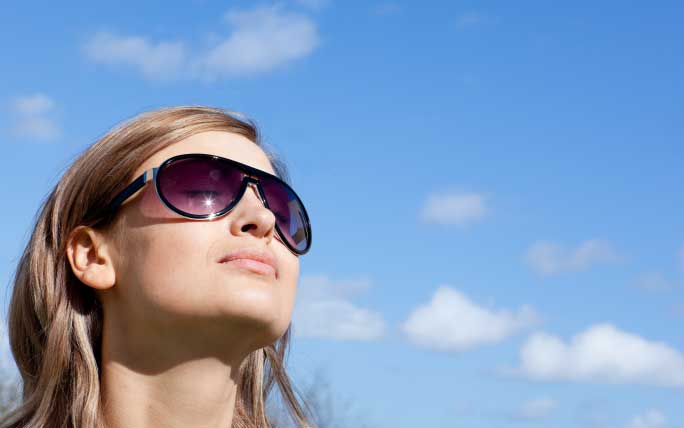 Protect your eyes from UV damage
Our eyes are more sensitive to ultraviolet (UV) rays than our skin. From an early age, the focus has been on protecting our skin with sunscreen. But what about our eyes?
How does UV affect the eye?
UV light affects your eyes in a similar way to your skin, and in some cases it can cause long-lasting damage, in particular to your corneas. Corneal damage, pterygium, cataracts and macular degeneration are all possible complications from over exposure to UV light.
Of course you can't apply sunscreen to your eyes as we do with our skin (we definitely don't recommend you try that!), but you can add a layer of protection to your eyes by putting on a pair of good quality sunglasses.
Prevention really is key here too, as sun damage to our eyes can't be reversed and could affect your eyesight in the long term.
Here in Queensland, it's a little difficult to avoid exposure to all UV light so sunglasses are a necessity when you're out enjoying our great weather. You can take measures to maintain good eye health overall by sticking to a healthy lifestyle that includes regular exercise and a nutritious diet. Eating a varied and healthy diet rich in carotenoids, antioxidants, vitamins, zinc and omega-3 fatty acids may all contribute to better eye health.
When does it start to affect us?
The risk of eye damage from UV rays is cumulative throughout life. That makes it extremely important to start protecting your eyes from an early age. If you haven't been protecting your eyes, make sure you start protecting them immediately. Damage may sometimes happen quickly too, if you've been exposed to too much UV light in a short period.
How to protect your eyes from UV damage?
Wear good quality sunglasses when you are outdoors, including when it's cloudy. Look for sunglasses that meet the Australian Standards for UV protection by checking that they are labelled as category 2, 3 or 4, and have an Eye Protection Factor (EPF) of 9 or 10. We can help you choose the best sunglass lenses and frame for your needs. When you come in to have a look at our range, we'll help you select a pair that sit well on your face, protect your eyes and look fabulous! Protect yourself further by wearing a broad-brimmed hat, and seek out that shade whenever you can to maximise the protection for your eyes from UV damage this summer.
Come and visit us to view the range of sunglasses available to help protect your eyes from UV damage, and if you'd also like to find out about prescription sunglasses, book an appointment with one of our friendly optometrists.
SUNGLASS BRANDS WE STOCK:

Ready to book an appointment?
Online bookings available or call us on (07) 3463 0349.
This website does not provide medical advice.  It is intended for informational purposes only.  It is not a substitute for professional medical advice, diagnosis or treatment.  Never ignore professional medical advice in seeking treatment.  If you think you may have a medical emergency, immediately dial Triple 0 (000).